Hours
Mon 10 am to 6 pm
Tue 10 am to 6 pm
Wed 10 am to 6 pm
Thu 10 am to 6 pm
Fri 10 am to 6 pm
Sat 10 am to 6 pm
Sun Noon to 5 pm
Coming Events
Happy Hour and Sale Tomorrow! (1/4)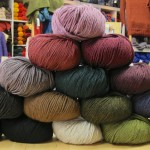 Knitting Etc. on Facebook
Get the News
Subscribe to Knitting Etc News! Get our newsletter, knitting class announcements, and the latest Knitting Etc news in e-mail. Your address will be kept confidential and will not be shared.
On the Web
Nelkin Designs
Find out what local designer Laura Nelkin is up to, browse her beautiful patterns, and find out what classes she is teaching at Knitting Etc.
Connie Chang Chinchio
Read the blog of a knitwear designer whose knitting roots can be traced back to Ithaca. Plus, we have to keep up with Connie's latest published piece somehow….
Briar Patch Knits
Joanne Andersen is a local dealer for Silver Reed and Artisan knitting machines. Visit her web site for more information on machine knitting.
Laurel O'Brien
Local artist Laurel O'Brien has been featuring her jewelry and cards in Knitting Etc. Check out her Etsy shop for the latest creations.
Archives
March 2012 (3)
February 2012 (12)
January 2012 (9)
December 2011 (12)
November 2011 (12)
October 2011 (7)
September 2011 (3)
August 2011 (14)
July 2011 (8)
June 2011 (11)
May 2011 (13)
April 2011 (14)
March 2011 (17)
Need to look up something from the old site? Follow this link.
Et Cetera
Get free patterns. Read knitting columns. Find out the latest new yarn and classes at Knitting Etc!
Our newsletters is published in full color in Adobe PDF format. If you don't have Adobe Reader on your computer, you can download it from Adobe for free.
| | | |
| --- | --- | --- |
| Issue 44 High Quality (5.8 MB)Compact (544 KB) | June 2011 | June Happy Hour and Sale: June 3Memorial Day ClosingSummer Lace KnittingNew ArrivalsUpcoming ClassesPattern: Seed Stitch Scarf by Linda Tottey |
Submissions
You've designed a beautiful sweater (or hat, mitten, whatever…) and can't wait to show it off? Here is your chance! We accept submissions of patterns or writings on knitting-related topics for our newsletter. If we use your work, you will have your fame and receive a $50 gift certificate!
Submission Guidelines
It must be your original design or writing that has not been accepted for publication elsewhere.
By making your submission, you give Knitting Etc permissions to publish your work and distribute it in our newsletter.
Pattern Submissions:

Please specify the yarn used and gauge.
If you have a digital camera, please submit color photographs of the finished product with your pattern. If you don't have a digital camera, we might ask to take pictures of the finished product if your pattern is selected for publication

E-mail all submissions in plain text or Microsoft Word format to: [email protected].
Archives
| | | |
| --- | --- | --- |
| Issue 43 High Quality (3.3 MB)Compact (452 KB) | May 2011 | May Happy Hour & Sale: Friday May 6Summer Techniques SeriesUpcoming Classes |
| Issue 42 High Quality (1.4 MB)Compact (373 KB) | March 2011 | Spring Sale: 10% to 60% off everything in store on Thursday, March 24 – Sunday, March 27Upcoming ClassesPattern: Schaefer Anne Knee Highs by Wendy Ives |
| Issue 41 High Quality (3 MB)Compact (479 KB) | February 2011 | Super Bowl Sunday Party & Sale: Sunday, Feb 6, Noon – 5 pmUpcoming ClassesPattern: Flower Hair Tie by Jennifer Lovelace |
| Issue 40 High Quality (6 MB)Compact (573 KB) | January 2011 | Happy New Year!Happy Stitching Hour: Friday, Jan 7, 5 – 7 pmHappy Hour SaleUpcoming Classes |
| Issue 39 High Quality (4.7 MB)Compact (398 KB) | December 2010 | Happy Holidays!Meet the Artist: Laurel O'Brien: Saturday, Dec 18, 10:30 am – 4 pmHappy Stitching Hour: Friday, Dec 3, 5 – 7 pmHappy Hour SaleHoliday ClosingsUpcoming ClassesFree Pattern: Finger Lakes Winter Slipper and Moccasin by Shanna Fellman |
| Issue 38 High Quality (2.6 MB)Compact (348 KB) | November 2010 | Holiday KnittingHappy Stitching Hour: Friday, Dec 3, 5 – 7 pmHoliday ClosingsUpcoming Classes |
| Issue 37 High Quality (6.3 MB)Compact (508 KB) | October 2010 | Meet Ann Weaver"Alber Squares" with Ann WeaverFall 2010 Yarn TastingContest WinnerHappy Stitching Hour: Friday, Nov 5, 5 – 7 pmUpcoming Classes |
| Issue 36 High Quality (1.8 MB)Compact (365 KB) | September 2010 | Happy Stitching Hour: Friday, Sept 3, 5 – 7 pmHappy Hour SaleUpcoming Classes"Yarn Bomb Ithaca" by Lynda Bogel |
| Issue 35 High Quality (5 MB)Compact (582 KB) | July 2010 | Summer Sale: 7/9 – 7/25Book Signing with Adrienne MartiniUpcoming Classes"Ludlow Linen All Knit Scarf" by Susan Mehringer |
| Issue 34 High Quality (729 KB)Compact (668 KB) | June 2010 | Happy Stitching Hour: June 4, 5 – 7 pmJune Happy Hour Lace SaleSpring / Summer Yarn TastingUpcoming Classes |
| Issue 33 High Quality (2.2 MB)Compact (374 KB) | May 2010 | Happy Stitching Hour: May 7, 5 – 7 pmMay Happy Hour "Mission Falls 1824 Cotton" SaleSpring / Summer Yarn TastingUpcoming Classes"Squares in a Circle" Hat by Cathy Allen |
| Issue 32 High Quality (1.4 MB)Compact (400 KB) | March 2010 | Schaefer Yarn Tour: April 17, 2010Happy Stitching Hour: March 5, 5 – 7 pmPattern Writing WorkshopLace ClubUpcoming ClassesCatherine Wheel Reversible Scarf by Sharon Darlow |
| Issue 31 High Quality (4.3 MB)Compact (393 KB) | January 2010 | Roving, Natural or Dyed, All LocalHappy Stitching Hour: February 5, 5 – 7 pmUpcoming ClassesKnitting for Mom by Susan Bryson Earle |
| Issue 30 High Quality (2.2 MB)Compact (369 KB) | December 2009 | Perfect Knitting GiftsHappy Stitching Hour: December 4, 5 – 7 pmHappy Hour SaleWeb Store OpenUpcoming ClassesAll is Well by Gay Nicholson |
| Issue 29 High Quality (2.2 MB)Compact (369 KB) | November 2009 | Happy Stitching Hour: November 6, 5 – 7 pmHappy Hour SaleUpcoming ClassesPattern: Ryland's First Year Vest by Hickory O'Brien Lee and Suze EshlemanCalling for SubmissionsJoin a Club! |
| Issue 28 High Quality (2.4 MB)Compact (560 KB) | February 2009 | Yarn Aid by Kay Simmons: Sunday, March 1, 1 – 3 pmHappy Hour & Sale: Friday, March 6, 5 – 7 pmLearn Fair Isle in MarchChoosing Colors without Getting the BluesThe Fair Isle TamThe Fair Isle VestUpcoming ClassesKnitting Basics: Felted BagLaminaria Lace ShawlTwistedKnitting ErgonomicsCabled BagletStained GlassSocks on DPNsBeaded Circulate"A Little Fair Isle Hat" by Jessica Drennan |
| Issue 27 High Quality (2.4 MB)Compact (562 KB) | January 2009 | Hat Jag by Lynda BogelSchaefer Yarn Tour: January 31, 2009Knitting for Charity by Kay SimmonsNo Happy Hour for JanuaryUpcoming ClassesKnitting Basics: Felted BagHint of a Heel Tube SockRiverbed SocksGuided ProjectsCayuga CardiganDouble-Knit HeadbandSpiral Yoke SweaterBig Girl SweaterChild's MittensPoint Reyas SweaterCabled BagletBeginner Lace KnittingEasy Triangle Shawl"Child's Mittens" by Kay Simmons |
| Issue 26 High Quality (1.7 MB)Compact (528 KB) | November 2008 | This Good Place by Lynda BogelHappy Hour & Sale: Friday, November 7, 5 – 7 pm & Friday, December 5, 5 – 7 pmUpcoming ClassesKnitting Basics: Felted BagKnitting Basics: Felted MittensThe Traditional Scottish (Fair Isle) TamMobius BasketsFoliage HatSocks on DPNsChristmas StockingBeaded CirculateGuided Projects"Karma Chill-Chaser" by Hickory O'Brien Lee & Suze Eshleman |
| Issue 25 High Quality (3.6 MB)Compact (697 KB) | September 2008 | That Little Peanut by Lynda BogelOctober Happy Hour: Friday October 3, 5 – 7 pmUpcoming ClassesKnitting BasicsGuided ProjectsSaddle Shoulder Aran CardiganKnitting ErgonomicsBeaded BraceletEasy Triangle ShawlMobius BasketsFair Isle & SteeksCat Bordhi Sock StudyCocoon LaceNoni BagKathleen VestBaby BoleroBobbi BearBeaded Lace Scarf"The Cayuga Cardigan" by Merdith F. Small |
| Issue 24 High Quality (2.3 MB)Compact (460 KB) | August 2008 | Knitting Cocoon Lace by Jessica DrennanSeptember Happy Hour and Sale: "Meet the Fall Yarn" Scavenger HuntUpcoming ClassesKnitting BasicsMiss Priss Diaper PantsKids Knitting: Ribbed HatToe Up Lace SocksGuided ProjectsSaddle Shoulder Aran CardiganCable MittensCathy's HatChristmas StockingHoneybee ShawlEasy Triangle ShawlMoebius BasketsFair Isle & SteeksCat Bordhi Sock StudyNoni BagKathleen VestSven SweaterBaby BoleroBeaded Lace Scarf |
| Issue 23 High Quality (1.3 MB)Compact (467 KB) | June 2008 | Have You Knitted in Public Lately? Join World Wide Knit In Public Day on June 14, 10 to Noon on Ithaca Commons!Upcoming Classes:Knitting Basics with Kay SimmonsMagic Loop I & II with Cha RobertsToe Up Socks with Cathy ChesnutBeaded Lace Scarf with Laura NelkinSummer Tee with Tracy BrockKids Beginner Knitting with Tracy BrockRavelry for Knitters with Steven LeeGuided Projects with Susan MehringerJuly Happy Hour and Sale CancelledKnitted String Groceries Bag by Ashlee McCaskill |
| Issue 22 High Quality (1.4 MB)Compact (411 KB) | May 2008 | Upcoming Classes:Knitting Basics with Lori MartinMagic Loop I & II with ChaToe Up Socks with Cathy ChesnutBeaded Lace Scarf with Laura NelkinRavelry for Knitters with Steven LeeGuided Projects with Susan MehringerKnitFlix by Lynda BogelOpal Sock Yarn Scarf by Bev King |
| Issue 21 High Quality (1.2 MB)Compact (376 KB) | April 2008 | Spring Sale: Apr 3 to 6Upcoming Classes:Knitting Basics with Alexis AbramoCrochet Basics with Cathy MerwinBeaded Lace Scarf with Laura NelkinSocks on DPNs with Melanie TownerFair Isle and Steeks with Jessica DrennanSwatch Soiree with HickoryCable Summer Tee with Tracy BrockFinishing & Seaming Basics with HickoryBobbie Bear with Kay SimmonsKnitting Ergonomics with Julie DorseyShe'll Be Comin' 'Round the Mountain by Lynda Bogel |
| Issue 20 High Quality (1.8 MB)Compact (416 KB) | February 2008 | The Potato Race by Lynda BogelB-a-a-a-h: Knitting As LoveHappy Hour & Sale: Friday, March 7, 5 – 7 pmUpcoming Classes:Knitting Basics with TracyCayuga Cardigan with Lynda BogelBeaded Lace Scarf with LauraFair Isle Mittens with MelanieV-Neck Vest with HickoryNantucket Jacket with CilanneGuided Projects with Hickory |
| Issue 19 High Quality (3.3 MB)Compact (480 KB) | January 2008 | Happy New Year, Baby!Schaefer Yarn Tour on January 26 (Advanced registration required)Happy Hour & Sale: Fri, January, 5 – 7 pmUpcoming Classes:Knitting Basics with StevenSocks on DPNs with LauraMobius Basket with SharonMitered Baby Sweater in Karaoke with MelanieBaby Surprise Jacket with SusanFair Isle and Steeks with JessicaCentral Park Hoodie with Lynda BogelCayuga Cardigan with Lynda BogelGuided Projects with HickoryCocoon Lace with SusanNorwegian Baby Sweater with Steeks by Jessica Drennan |
| Issue 18 High Quality (2.8 MB)Compact (362 KB) | November 2007 | "Knit Your Ornaments!" ContestB-a-a-a-h: the Flock of KnittersHappy Hour & Sale: Fri, 12/7, 5 – 7 pmUpcoming Classes:Knitting Basics with DebbieChristmas Stocking with AshleeSocks on DPNs with LauraMobius Basket with SharonCentral Park Hoodie with HickoryMitered Baby Sweater in Karaoke with MelanieBaby Surprise Jacket with Susan |
| Issue 17 High Quality (2.6 MB)Compact (444 KB) | September 2007 | Finishing Up!B-a-a-a-h: On NeedlesUpcoming ClassesHappy Knitting Hour: Fri, 10/5, 5 – 7 pmBaby Joy Sweater: A side-to-side Toddler Cardigan by Dawn Page |
| Issue 16 High Quality (1 MB)Compact (336 KB) | August 2007 | Fall Inventory Rolling In!B-a-a-a-h: On Fearless KnittersUpcoming Classes:Knitting Basics: Felted Bag with LoriKnitting Ergonomics with JulieCentral Park Hoodie with HickoryFlip-Top Mittens with LauraFirst Sweaters, for Baby or Child with LyndaSocks on DPNs with MelanieHappy Knitting Hour: Fri, 9/7, 5 – 7 pmCall for Patterns by Jessica Drennan |
| Issue 15 High Quality (913 KB)Compact (453 KB) | July 2007 | Summer Sale: 20% to 60% off on Select In-Stock Yarn from July 14 to 29!Upcoming Classes:Knitting Basics: Felted Bag with DebbieBaby Soakers with SonjaThe Wallaby Hoodie with HickoryKnitting Ergonomics with JulieSocks on DPNs with MelanieEntrelac Scarf or Shawl with MelanieRoses for You Socks by Susan Sarabasha |
| Issue 14 High Quality (1.8 MB)Compact (337 KB) | May 2007 | Upcoming Classes:Knitting Basics: Felted Bag with DebbieMagic Loop Socks II with ChaModular Knitting with MelanieLola Bunny with LauraKnitting Ergonomics with JulieMobius Knitting with AndreaGuided Projects with Hickory and DawnMother's Day Washcloths by Jessica Drennan |
| Issue 13 High Quality (1.2 MB)Compact (353 KB) | March 2007 | B-a-a-a-h: A college professor's balancing act on knitting and lecturingA review of "Radical Lace and Subversive Knitting" art exhibit by Shirley EganPower of the Yarn by Walt DavenportUpcoming Classes:Knitting Basics: Felted Bag with LauraThe Traditional Scottish Tam with MeredithSpring Swatch Soiree with HickorySteeks with JessicaKnitting Ergonomics with JulieNoni Bag with MeredithShort Rows Purse with CaliaThe Wallaby Hoodie with CaliaSocks with DPNs with MelanieMagic Loop Socks with ChaSpring Cleaning with Dawn, Kyle, and MeredithMobius Knitting with AndreaKnitted Flowers with MeredithGuided Projects with Hickory and Dawn |
| Issue 12 High Quality (858 KB)Compact (349 KB) | February 2007 | B-a-a-a-h: Meredith on Knitting FashionUpcoming Classes:Knitting BasicsLace Knitting with DawnCrochet Edgings with ChaGuided Projects with Hickory and DawnIntarsia One-Day Workshop with DawnThe Traditional Scottish Tam with MeredithFair Isle with Steeks with DawnNoni "Night Garden" Bag with MeredithKnitted Flowers with Meredith"The Perfect Guy Hat" by Steven Lee |
| Issue 11 High Quality (1.8 MB)Compact (392 KB) | January 2007 | Happy New Year!B-a-a-a-h: New Year ResolutionUpcoming Classes:Knitting BasicsMagic Loop Socks"I'm Afraid to Knit a Sweater" with HickoryThrummed Mittens with MeredithGuided Projects with Hickory and DawnMorning Guided Projects for Advanced Beginners with MeredithPattern Writing and Alteration with DawnKnitting Ergonomics with JulieKids Beginners: Let's Knit Critters! with ChaKids Advanced Beginners: Let's Knit Hats! with ChaSocks with DPNs with DawnLace Knitting with DawnCrochet Edgings with Cha"Dreaming of Spring Scarf" by Mariah Peare |
| Issue 10 High Quality (2.2 MB)Compact (349 KB) | December 2006 | 12 Sweaters, 12 Months: Go!B-a-a-a-h: Happy Holidays from the Opinionated SheepUpcoming Classes:Magic Loop Socks One Day Work Shops on Jan 6 and 7Knitted Flowers with Meredith"I'm Afraid to Knit a Sweater" with HickoryThrumbed Mittens with MeredithGuided Projects with Hickory and DawnPattern Writing and Alteration with Dawn"Girl's Winter Sweater" by Jessica Drennan |
| Issue 9 High Quality (1 MB)Compact (363 KB) | November 2006 | "Knitting for a Good Cause" ProjectsPerfect Knitting GiftsB-a-a-a-h: Meredith F. Small on ThanksgivingUpcoming Classes:Knitting Basics: MittensMagic Loop Socks One Day Work Shop on Jan 6"I'm Afraid to Knit a Sweater""Angora Luxury Wristies" by Hickory |
| Issue 8 High Quality (720 KB)Compact (364 KB) | October 2006 | Knitting for HospicarePerfect Knitting GiftsB-a-a-a-h: Meredith F. Small on repeat knittersUpcoming Classes:Knitting Basics: MittensNext Steps: Intro to Fair Isle, Intarsia, Cable, Lace and Short RowsKids Knit HatsChristmas StockingsGift KnittingKnitting ErgonomicsLace KnittingGuided ProjectsCatch of the Day by Pam Gordnier |
| Issue 7 High Quality (950 KB)Compact (388 KB) | September 2006 | "Meet the Fall Yarn" Season Kickoff Party!B-a-a-a-h: Meredith F. Small on yarn, wool, and the knitting lifeUpcoming Class Announcements:Knitting Basics,Magic Loop Socks,Bobbi Bear,Socks,Gift Knitting,Mittens, andGuided ProjectsCrochet Ruffle Scarf by Hickory |
| Issue 6 Full (468 KB) | July 2006 | Knitting Spa PartyUpcoming Class Announcements: Knitting Basics, Knitting Ergonomics, Finishing Up!, "I'm Ready for More" Sweater, Magic Loop Socks, Kids Knitting, and "Teens and Hats"Poppy Cat Mat by Amy Whitney |
| Issue 5 Full (1.5 MB)Compact (576 KB) | June 2006 | Grand Opening Party: Thursday, June 8, 6 to 9 pm!Upcoming Class Announcements: Knitting Basics, "I'm Afraid to Knit A Sweater", Intro to Crochet, Mother/Daughter, Knitting for Our Babies, Summer Teen KnittingPattern for Eight-Panel Skirt by Amy Whitney |
| Issue 4 Full (5.3MB)Compact (467KB) | April 2006 | Knitting Etc to Relocate to Triphammer Mall in MayUpcoming Class Announcements: Crochet and Summer Guided ProjectsPattern for New Knitter's Felted Bag by Hickory |
| Issue 3 Full (9.3MB)Compact (397KB) | March 2006 | Kool-Aid Magic Ball Hat by Beth SkwareckiSpring Yarns are Coming!Upcoming Class Announcements: Finishing School, Sock Basics, and New KnittersPattern for Cabled Scarf in Baby Alpaca Grande by Cathy Allen |
| Issue 2 Full (6.2MB)Compact (370KB) | February 2006 | Knitting Olympics: Cast-on & Finishing Parties at Knitting Etc!Upcoming Class Announcements: Saturday Workshops and New KnittersPattern for Slipper Socks by Chris Lansdown |
| Issue 1 | January 2006 | A Non-Knitter's Welcome"Meet the New Owner" Sale on Jan 19 to 22!Upcoming class announcementsPattern for a reversible scarf by Hickory |