Hours
Mon 10 am to 6 pm
Tue 10 am to 6 pm
Wed 10 am to 6 pm
Thu 10 am to 6 pm
Fri 10 am to 6 pm
Sat 10 am to 6 pm
Sun Noon to 5 pm
Knitting Etc. on Facebook
Get the News
Subscribe to Knitting Etc News! Get our newsletter, knitting class announcements, and the latest Knitting Etc news in e-mail. Your address will be kept confidential and will not be shared.
On the Web
Nelkin Designs
Find out what local designer Laura Nelkin is up to, browse her beautiful patterns, and find out what classes she is teaching at Knitting Etc.
Connie Chang Chinchio
Read the blog of a knitwear designer whose knitting roots can be traced back to Ithaca. Plus, we have to keep up with Connie's latest published piece somehow….
Briar Patch Knits
Joanne Andersen is a local dealer for Silver Reed and Artisan knitting machines. Visit her web site for more information on machine knitting.
Laurel O'Brien
Local artist Laurel O'Brien has been featuring her jewelry and cards in Knitting Etc. Check out her Etsy shop for the latest creations.
Archives
March 2012 (3)
February 2012 (12)
January 2012 (9)
December 2011 (12)
November 2011 (12)
October 2011 (7)
September 2011 (3)
August 2011 (14)
July 2011 (8)
June 2011 (11)
May 2011 (13)
April 2011 (14)
March 2011 (17)
Need to look up something from the old site? Follow this link.
March 6, 2012
A Cowl with Feathers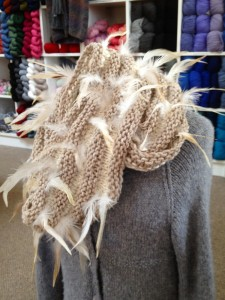 Posted in Blog
Elly's finished cowl with Pagewood Farm Plumes and Berroco Blackstone Tweed is now on display in the shop. Come feel the cowl and see the other brilliant colors! The first batch of Pagewood Farm Plumes (with feathers) and Ringlets (with curly locks) is essentially sold out as there are only 4 skeins of Plumes left. More should arrive later this week!
March 3, 2012
Feathers & Curly Locks
Yarns we've never had before, or anything like them! Some say they're fanciful frivolity. Definitely artsy, off-beat and just plain fun! I'm currently working on a cowl with Berroco Blackstone Tweed and Pagewood Farms Plumes. Come check out the rich color combinations and see how it looks knit!
Posted in Blog
March 1, 2012
New Yarn: Canopy Fingering
We received two big boxes from the Fibre Company full of Canopy Fingering.  This luxury yarn (50% baby alpaca, 30% merino wool, 20% bamboo) feels heavenly and comes in more than 20 classy heather colors, perfect for making your next fair isle masterpiece gorgeous and soft! We were too busy yesterday in the shop to unbox them.  We will try to get them on the shelves today and on the web store ASAP.  Meanwhile, I snapped a quick photo of the few colors that I was petting.  Come see and feel them in person!
Posted in Blog
February 28, 2012
Tomten Jacket (starts Mar 17)
Five 2-hour classes; $60 + tax & supplies
Pre-requisite: You must either have completed the Knitting Basics class or possess all the skills listed in the class descriptions.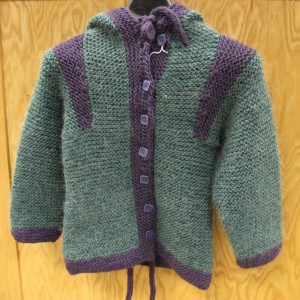 Another classic Elizabeth Zimmerman design, this versatile jacket may be knitted for any size from babies to adults. Done completely in garter stitch it also offers many embellishment choices (collar, hood, zipper, buttons, pockets, belt, etc). It also features modular construction with the sleeves knitted up around the armhole and shaped down from the top of the sleeve to the cuff.
| | | | |
| --- | --- | --- | --- |
| Session 1 | Dawn Smith | 1 to 3 pm on Saturday, 3/17, 3/24, 3/31, 4/14, and 4/21 | Open for Sign Up! |
Call (607) 277-1164 to reserve your spot!
Posted in Available Classes, Knitting Classes, Sweater Classes
February 28, 2012
Happy Hour Sale: 20% Off In-Stock Sock Yarn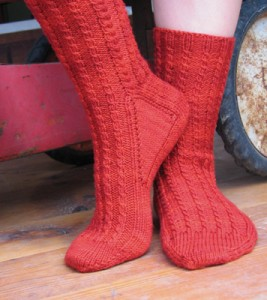 Posted in Blog
← Older posts
On this Friday, March 2, take 20% off all in-stock sock yarns*! Socks are fun and easy to transport. You can knit socks anywhere and take them wherever you go. We have a great selection of sock yarns in stock, all at 20% off this Friday!
See you all at the Happy Stitching Hour from 5 – 7 pm on Friday!
* Sale prices apply to in-store purchases of in-stock items only, and cannot be combined with other discounts.