Hours
Mon 10 am to 6 pm
Tue 10 am to 6 pm
Wed 10 am to 6 pm
Thu 10 am to 6 pm
Fri 10 am to 6 pm
Sat 10 am to 6 pm
Sun Noon to 5 pm
Coming Events
Happy Hour and Sale Tomorrow! (1/4)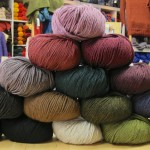 Knitting Etc. on Facebook
Get the News
Subscribe to Knitting Etc News! Get our newsletter, knitting class announcements, and the latest Knitting Etc news in e-mail. Your address will be kept confidential and will not be shared.
On the Web
Nelkin Designs
Find out what local designer Laura Nelkin is up to, browse her beautiful patterns, and find out what classes she is teaching at Knitting Etc.
Connie Chang Chinchio
Read the blog of a knitwear designer whose knitting roots can be traced back to Ithaca. Plus, we have to keep up with Connie's latest published piece somehow….
Briar Patch Knits
Joanne Andersen is a local dealer for Silver Reed and Artisan knitting machines. Visit her web site for more information on machine knitting.
Laurel O'Brien
Local artist Laurel O'Brien has been featuring her jewelry and cards in Knitting Etc. Check out her Etsy shop for the latest creations.
Archives
March 2012 (3)
February 2012 (12)
January 2012 (9)
December 2011 (12)
November 2011 (12)
October 2011 (7)
September 2011 (3)
August 2011 (14)
July 2011 (8)
June 2011 (11)
May 2011 (13)
April 2011 (14)
March 2011 (17)
Need to look up something from the old site? Follow this link.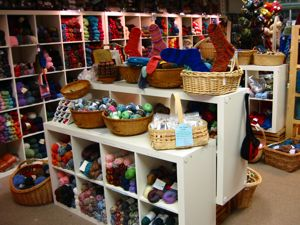 About Knitting Etc.
2255 N. Triphammer Rd.
Ithaca, NY 14850
Phone: (607)277-1164
E-Mail: [email protected]
History
In December 2005, Hickory bought the yarn shop formerly named "Knitting Machines Etc" located on Mitchell Street in Ithaca and renamed it "Knitting Etc." With her experience in knitting and teaching, Hickory is excited to welcome both returning and new customers with expanded store hours. Our goal is to
Make you a better knitter and keep you knitting.
We will keep bringing new yarns and accessories of the best quality to the store, and the latest knitting trends on our web site and newsletter. We have classes for knitters of all abilities to improve their skills.
In May 2006, Knitting Etc moved to Triphammer Mall at the Triphammer Road exit on Route 13. In this new 1000-square foot, fully climate controlled space with many cafes and restaurants nearby, we strive to provide you a friendly and comfortable environment to shop and knit. Our staff is full of energy and new ideas to help you finish your projects successfully. Come visit us… and bring your knitting, of course!
Meet the Owner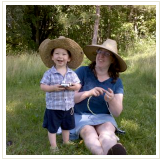 Hickory O'Brien Lee learned to knit when she was Hickory O'Brien and attended the former Waldorf School of the Finger Lakes in Ithaca. She re-discovered her passions in knitting as a young adult and hasn't put down her needles since.
Hickory spent countless hours knitting while watching Netflix movies or listening to (usually overdue) books on tape from the library. Hickory worked and taught knitting classes at a yarn shop for several years before deciding to take on her own store in December 2005.
She'd love to hear from other knitters at [email protected].